CBC Host Nora Young, Workshop: The Computable Self and the Politics of Data (March 10, 2017)
The Computable Self and the Politics of Data
10 March 2017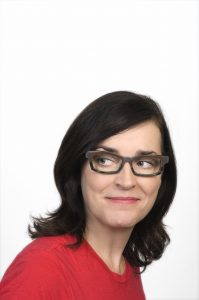 Keynote talk with Nora Young, host of CBC Radio program Spark 
Friday, 10 March 2017
2:00-3:15
CIBC Hall, 3rd floor McMaster University Student Centre
All welcome.
Workshop:
Friday, 10 March 2017
8:20-5:30
Sherman Centre for Digital Scholarship, Mills Library 1st floor
Please email banners@mcmaster.ca to register.
See Full Program with Abstract and Presenters
Keynote speaker
Nora Young, host of CBC Radio program Spark, will give a talk titled Data Bodies, Digital Citizens: Power and Politics in the Age of the Data Boom: We're in a new era, where the physical and the digital are braided together as never before. Simply going through daily life, enormous amounts of data are produced about us, and by us. As individuals, that data can help us learn about ourselves. Collectively, it can lead to smarter, more sustainable cities, improve health care and respond to crises. But that Data Boom comes with serious risks: loss of privacy, unacknowledged bias, or the targeting of vulnerable populations. The Data Boom is affecting the credit rating you get, the jobs you will be considered for and more. To build the data future we want we need to be active digital citizens, and rethink our relationship to our data.
Workshop: The Computable Self and the Politics of Data
This one-day regional workshop, hosted at McMaster University's Sherman Centre for the Digital Humanities, will explore political, scholarly and creative interventions into personal data, practices of quantifying self, and our virtual and networked lives. Invited academic, artistic and research creation presentations will address creative and political intersections that link data, self, and social formations. How does data work to create, mandate or complicate normative formations of self and idealized socials? How do our emergent practices and critiques of data illuminate neoliberal or machinic valorization; shed light to the acts of power and self-governance or surveillance; imagine resistive ways in which we can exploit or retain agency with our data? How do we realize data's productivity through our varied critical and creative practices? The workshop aims to consider popular outreach, such as Nora's, that seek to engage a broad public in crucial conversations around the present and future work of data.
Workshop speakers:
Andrea Zeffiro, Academic Director, Sherman Centre for Digital Scholarship, Assistant Professor, Communication Studies and Multimedia, McMaster University
Christina Baade, University Scholar, Associate Professor, Communication Studies and Multimedia, McMaster University
Christine Quail, Associate Professor, Communication Studies and Multimedia, McMaster University
Danielle Wong, PhD Candidate, English and Cultural Studies, McMaster University
David Ogborn, Associate Professor, Communication Studies and Multimedia, McMaster University
David Phillips, Associate Professor, Faculty of Information, University of Toronto
Gabby Resch, PhD Candidate, Faculty of Information, University of Toronto
Isabel Pedersen, Canada Research Chair in Digital Life, Media and Culture, University Of Ontario Institute Of Technology
Matt Ratto, Associate Professor, Faculty of Information, University of Toronto
Natasha Tusikov, Adjunct Professor, Department of Sociology, Brock University
Patricio Davila, Assistant Professor, OCAD University
Paula Gardner, Asper Chair in Communications, McMaster University
Sara Bannerman, Canada Research Chair in Communication Policy and Governance, McMaster University
Sarah Brophy, Professor, English and Cultural Studies, McMaster University
Sponsored by:
McMaster University's Faculty of Humanities
McMaster University's Department of Communication Studies and Multimedia
Sara Bannerman, Canada Research Chair in Communication Policy and Governance
Paula Gardner, Asper Chair in Communications