Weekly News (Apr. 9th – 15th)
Communications Governance in the News
Compiled by Márcio E. Gonçalves
Research Assistant, Communications Governance Lab
M.A. Candidate, Communication and New Media, McMaster University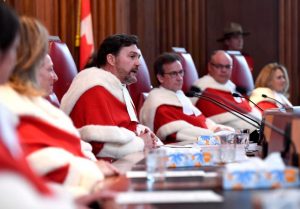 Canadian News (April 02 – April 08, 2018)
International News (April 02 – April 08, 2018)
Press Releases and Decisions (April 02 – April 08, 2018)
Supreme Court of Canada
[PRIVACY] Her Majesty the Queen v. Eric Talbot (Ontario) (Criminal) (By Leave) Crown denied an assistance order that would compel accused to provide swipe pattern required to unlock smart phone – Whether application judge misconstrued the principle against self-incrimination and erred by concluding that the assistance order would violate s. 7 of the Charter? The application for leave to appeal is dismissed for want of jurisdiction.
Canadian Heritage
Competition Bureau Canada
CRTC
o     Broadcasting Decision:
▪     Decision relating to the following application considered under the Commission's Part 1 process:
▪     Unifor and its Locals 723M and 830M
▪     Chinese and Southeast Asian Legal Clinic and Urban Alliance on Race Relations
▪     Complaints against Rogers Media Inc. alleging non-compliance with OMNI Regional's third-language news requirement
▪     Public record for these applications: 2017-0975-0 and 2017-0977-6
o     Telecom Regulatory Policy:
▪     Review of the competitor quality of service regime
▪     Public record: 1011-NOC2017-0049
Innovation, Science and Economic Development Canada
Office of the Privacy Commissioner of Canada
Microsoft
Upcoming Events
Senate of Canada
The Senate resumes Monday, April 16, 2018.
Canadian House of Commons
The House is adjourned until Monday, April 16, 2018 at 11:00 a.m. (EDT). The agenda is not available yet.
Supreme Court of Canada
The Supreme Court of Canada announced today that judgment in the following applications for leave to appeal will be delivered at 9:45 a.m. EDT on Thursday, April 12, 2018. This list is subject to change.:
o     […][PRIVACY] Frederic Dwayne Wilson v. Her Majesty the Queen (B.C.) (Criminal) (By Leave) Charter of Rights  – Search and seizure – Reasonable expectation of privacy – Whether the Court of Appeal erred by concluding that the applicant did not have a reasonable expectation of privacy in the common areas of the condominium complex in which his suite was located or in the video surveillance footages of those common areas – Charter of Rights and Freedoms, s. 8.[…]
CRTC